Inquire About Our Products
Do you need assistance with finding and purchasing the type of two-way radio equipment ideal for your organization or business? Please don't hesitate to seek help from our staff. Tell us your specifications and we will provide you options that are suited to your needs and budget. For further product inquiries, you may call us at (601) 355-5023.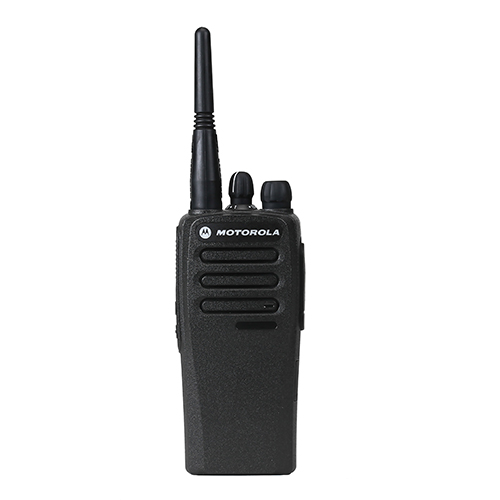 CP200d Portable Two-Way Radio
Simple and affordable, the CP200d radio connects your workforce efficiently and has the flexibility to grow with your business. By combining the best of two-way radio functionality with the latest analog and digital technology, the CP200d is perfect for the everyday user who wants to stay connected. It is fully compatible with the MOTOTRBO family of radios and has superior audio quality, outstanding coverage, long-lasting battery life and more. You can also choose the analog-only model, which gives you great voice communications today with the option to migrate to digital when you are ready. Whatever your needs, the CP200d provides a simple, reliable, cost-effective communication solution to help work crews connect, coordinate and collaborate to get the job done right.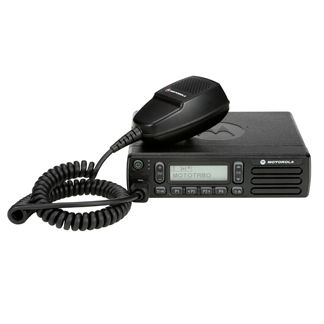 The MOTOTRBO CM Series mobile radio is a reliable, cost-efficient solution to keep your team in contact so they can communicate, coordinate and collaborate for maximum efficiency and safety. The CM Series is designed for the everyday driver, so your workers can connect without distraction, whether they're delivering cargo, dispatching trucks, or driving a school bus. The CM Series is easy to use and delivers clear communication for maximum efficiency of your operation.
The CM Series radios include:
CM200d
CM300d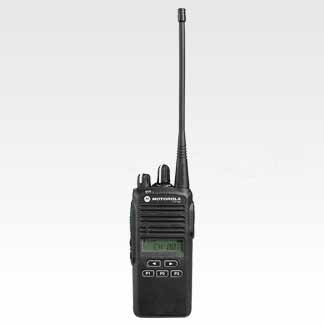 Ideal for educational institutions, retail and hospitality businesses, service and manufacturing industries, and many other demanding, professional applications, the Motorola CP™185 brings you a robust two-way radio solution. The CP185 has an extensive feature set including built-in voice scrambling for increased privacy, VOX capability for hands-free communication, five programmable buttons and X-Pand™ Technology to provide crisp, clear and strong audio quality even in noisy environments. Combined with the compact, lightweight design of the CP185, you get just what it takes to enhance communication while increasing productivity.
The CP185 is available in a Limited Keypad (LKP) model with screen. The CP185 MDC comes in an LKP model and a No Keypad (NKP) model, providing the right features for each user.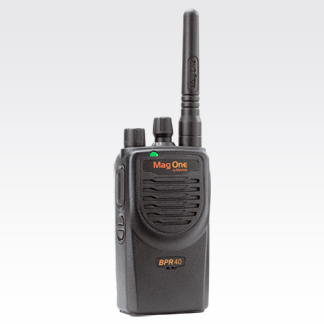 IThe BPR™40 portable two-way radio delivers reliable, intuitive communication through 8 channels and 2 programmable buttons. The high-/low-power option saves battery charge. Features such as nuisance channel delete and repeater talkaround make the radio a versatile, high-performance device. The BPR40 is part of the Mag One™ by Motorola radio portfolio. This affordable solution gives remarkable quality and value that is perfect for your business, and comes with a complete assortment of accessories to customize your radio.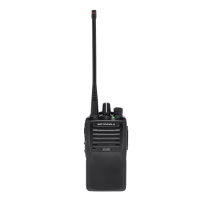 COMPACT, DEDICATED PTT COMMUNICATION
For basic push-to-talk communication,look to the VX-260 Series.
Choose from two portable analog radios: the VX-261 (without display) and VX-264 (with display). With enhanced interoperability, you can choose from multiple signaling options, such as: MDC1200®, FleetSync®, DTMF, and 2-tone or 5-tone capabilities for seamless integration into a mixed fleet. Compatible with the universal battery system, you'll eliminate equipment clutter and confusion by standardizing on one charging base for the entire team.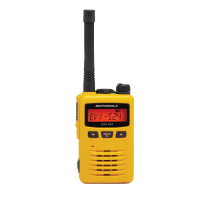 COMPACT, DISCREET, LIGHTWEIGHT
Give your team members a compact, discreet, and lightweight radio that allows them to be comfortable in any situation.
Worn on a belt, tucked away in a pocket or clipped to a lapel, the water-submersible and dust-proof EVX-S24 is designed to survive demanding conditions. It operates in both analog and digital modes, so it's ideal for use with mixed fleets. And in digital mode, enjoy noise cancellation for crisp audio and clear conversations.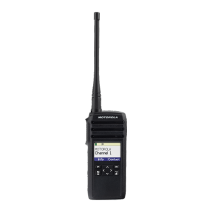 Motorola's DTR series radios are now more reliable than ever – enabling interference free, private communications to help your team stay focused while keeping communications private. With its slim, rugged design the DTR700 digital two-way radio is equipped with 50 channel capacity. It is IP54 rated and operates at 900 MHz. A full-graphic color display and intuitive navigation menu helps you quickly locate all radio features. The DTR700 offers flexible communication options, including Digital One-to-One Calling and Digital One-to-Many Calling. The DTR700 also provides great coverage, long battery life and digital audio quality that is loud and clear audio wherever you are.